Review: Lindsey Stirling – Lindsey Stirling (2012)
Given the uptick in popularity of genre bending artists, it is basically a travesty that violinist Lindsey Stirling hasn't been featured on here yet. You might know the story – a Mormon violinist in her early twenties decided to try out on America's Got Talent as a "hip hop violinist." After achieving moderate success on the show and the obligatory put-down by Piers Morgan, she took to social media to spread her brand of genre-fusion violin-based compositions, free from the influence of anyone and free to be her quirky self. The rest is history, folks. Just look at the millions of YouTube views and you'll see why. I mean, the fact that she's very attractive certainly helps but I was referring to the musical talent. Really.
After social media notoriety and a refreshed reputation as a "dubstep violinist," she has one nationwide tour and a debut LP full of original compositions under her belt. I'm going to address potential criticism right off the bat. Naysayers will (and probably already have) argue(d) that the combination of violin with modern ambient electronic music is forced. Let me introduce a thought – maybe it only sounds forced because you haven't heard it done that way before. Unfamiliarity is a concept that can be a toss-up between what way it rubs someone. Well, I'll say that it rubs me the right way!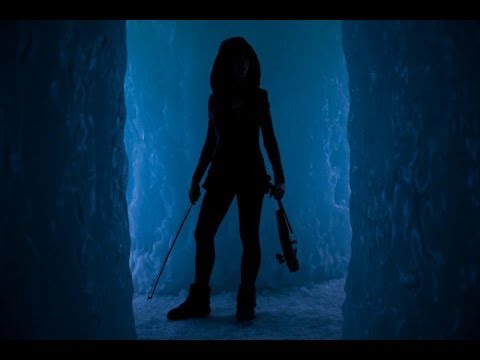 Cliche as it may seem, "epic" is actually the perfect adjective to describe the record. The most publicized track is "Crystallized" and with good reason – it explores in full all the dimensions of Stirling's music. I should add another word of caution here though – any Skrillex mega-fans looking for huge bass-drops might be disappointed with the sound of the record. The dubstep influence is more subtle, but definitely there. Overall though, the electronic influence is more along the lines of say, something from AVICII than Skrillex. Also, while the album isn't completely without human vocals, the vocals are never the focal point of the music. The album is both soundtrack ready as the score of a sci-fi motion picture and club ready. Look out "Sandstorm" – one of these tracks could easily take your place, with their impeccably placed build-ups to a primary theme (see "Moon Trance" or "Minimal Beat"). Whether or not this genre fusion will be a passing fad, I cannot say. What I can say is that this album will not be a passing fad in my music library. Perhaps you'll agree.
Score: 4/5